The month of Ramadan is the holiest month for all Muslim communities around the world. It was during the month of Ramadan that the holy Quran was revealed to the Holy Prophet Muhammad. 
The auspicious period of Ramadan begins and ends with the appearance of the crescent moon. The Islamic calendar abides by the lunar cycle, the moon's phases. This year Ramadan will start on March 22 and end on 21st April. The month of Ramadan is observed by fasting and praying which is also known as sawn and salat respectively. Praying and fasting are 2 of the 5 pillars of Islam which form the core values of Islam.
In this article, we talk about Creative ways to celebrate Ramadan at the office. You don't have to miss out on the joys of celebrating Ramadan even when you are at work. With the ideas listed below, you can make your time at the office festive and celebratory.
Ramadan-themed office decoration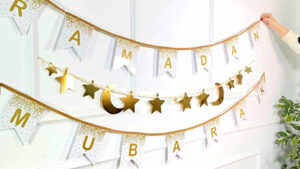 Decorating your workspace is a great way to be in the Ramadan mood at Office. You can opt for Ramadan-themed lighting, decoration, and seating arrangements to create a festive vibe. There are options like moon-themed decor, Ramadan Kareem lights, and traditional Arabic majlis sofas that you can use to decorate the workspace. You can surprise your colleagues, by decorating their cubicles with Ramadan decorations like lanterns, crescent moons & stars. Decorating your colleagues' workspace will not only make the space visually appealing but will also uplift their spirits.
Cafeteria setup for iftar gatherings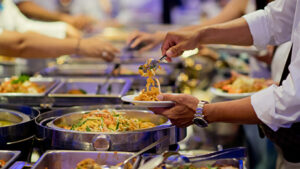 The cafeteria is the most loved space in the office by all. Employees love to spend their leisure time in the cafeteria, so during Ramadan, keep some fast-friendly foods & healthy snacks such as dates, fruits, and nuts. You can also stock some beverages like rose syrup, coconut water, lemon drinks, or mixed fruit juices for employees to enjoy during the iftar.
You can organize iftar gatherings for both fasting and non-fasting employees to come together and break their fast & and share in the spirit of Ramadan.
Offer flexible working hours during Ramadan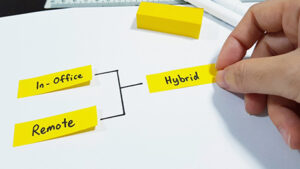 Fasting requires endurance. During this month when most employees are observing fast, a lot of Fasting employees may need to adjust their schedules during Ramadan, so offering flexible working hours can help them manage their fasting obligations. This can include allowing them to start work earlier or later or offering time off for prayers.
Showing consideration for employees' needs will foster a stronger bond with them and this will ultimately lead to better work performance of overall employees' satisfaction with the company.
Show cultural sensitivity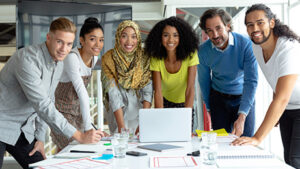 The first and foremost way to show cultural sensitivity is by acknowledging the holy month by greeting colleagues celebrating the holy month with greetings such as "Ramadan Mubarak" or "Ramadan Kareem". 
Additionally, you can be mindful of not having meals in front of fasting colleagues. Fasting requires a lot of mental resistance and it would be inconsiderate to eat meals in front of colleagues who are observing the Ramadan fast. It is best to create a separate space for non-fasting people.
Offer Ramadan gifts to employees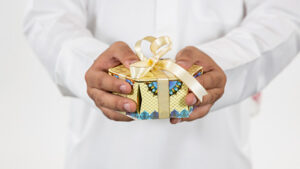 Gifting is a wonderful way to express gratitude and showcase your love and affection. Make the office You can organize a Ramadan-themed competition for employees such as a quiz, or creative challenge. This can be a fun way to engage employees, also can plan for Eid gifts like Ramadan Calendar, Quran, Sweetbox, premium quality dates box, iftar box, and snake gift hampers.
Reserve private prayer spaces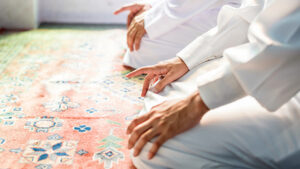 As part of their religious practices, Muslim employees need to pray five times a day, and a quiet area of the office can be used for prayer. You can place a prayer rug, some copies of the Quran, and a few chairs or cushions in the prayer area to make it comfortable for employees. With the help of Hafla, you can design a private and peaceful space that meets your spiritual needs.
Make the most of the auspicious month of Ramadan by inculcating the above ideas to celebrate Ramadan at the office. Browse for a range of rental decor, furniture, lighting, and set-up options at Hafla and create an ambient space for celebrating this auspicious month.
Written By: Nitya Gupta