Diwali or Deepavali also known as the "Festival of Lights" is one of the most awaited festivals for Hindu, Sikh & Jain communities around the world. Though each community has a different reason for celebrating Diwali, the essence of celebration remains the same. This is the time of the year when homes are deep-cleaned, new clothes are purchased, savories are prepared, gifts are exchanged and the young ones are blessed by the elders in the family.
According to CXO today.com Diwali 2022 witnessed a 17% YoY increase in online sales compared to 2021
Diwali Celebrations in the UAE:
The Diwali celebrations in the UAE mirror those around the world, with some unique nuances. People light up their homes, share Diwali greetings, and enjoy festive traditions. Families decorate their houses, have delicious meals, and come together for happy gatherings. This joyful atmosphere shows the togetherness and different cultures that make the UAE a wonderful place. The Dubai Mall, Wafi Mall, Deira City Centre, Mall of the Emirates, and Bur Dubai Souk are popular spots for Diwali shopping.
5 Days & Dates of Diwali 2023:
| | | |
| --- | --- | --- |
| Date | Event | Thing to do |
| 10 November 2023 | Dhanteras | On the first day of Diwali, the tradition in Dubai involves purchasing utensils made of brass, silver, or gold, considered a highly auspicious day. |
| 11 November 2023 | Choti Diwali | The day before the main festival is dedicated to preparations. It involves making sweets, visiting loved ones, and exchanging gifts. Homes and buildings are aglow with lights, diyas, and candles, creating a warm and festive ambience. |
| 12 November 2023 | Diwali | On Diwali, families don their finest Indian attire to worship Laxmi-Ganesh, Gods of wealth and protection. The evening is filled with cherished moments among family and friends, including card games, dancing, and singing. While fireworks are not allowed in Dubai households, the sky comes alive with a spectacular display organized by the Emirates. |
| 13 November 2023 | Goverdhan Puja | The day after Diwali Hindus prepare a big vegetarian meal for Lord Krishna. Additionally, many Indian restaurants offer special menus for this occasion |
| 14 November 2023 | Bhai Dooj | Bhai Dooj is the day of siblings and cousins. A sister offers sweets to his brother, and in return, the brother gifts his sister with presents and vows to protect her. |
With Diwali on the horizon, everyone is energized to show up in their impeccable attires & create heart-warming decor at home. With the passage of time, even as the commodity market has evolved and there are infinite products for every occasion, the basic decor elements for a traditional Diwali remain the same. Listed below are 6 home decoration essentials that are staples to Diwali.
Terracotta Clay Diyas – A symbol of purity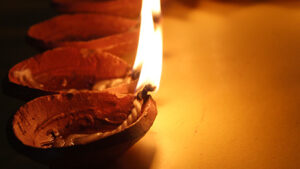 The name "Diwali" is derived from the Sanskrit word "dīpāvali," which means "row of lights" or "series of lamps." Diwali is incomplete without lighting traditional terracotta diyas. With ever-evolving electric lighting options in the market, none can replace a traditional diya. The terracotta diyas are not only aesthetically pleasing but also eco-friendly. Lighting the clay diyas during rituals & festivals signifies purity, prosperity and growth.
Terracotta diyas, with their intricate designs, symbolize purity and enlightenment, embodying the triumph of good over evil and dispelling darkness.
Integral to Diwali decor, these eco-friendly lamps not only establish a connection with nature but also create a spiritually-charged ambience, perfect for prayer and meditation.
Their deep cultural significance extends beyond borders, used in various rituals and festivals, evoking a sense of shared heritage while supporting local artisans.
Customizable for a personal touch, these diyas encourage mindful consumption, favoring handmade, locally-sourced items and providing safe, controlled lighting.
Made from natural clay, these lamps accompany prayers, invoking blessings and positive energies, making them an essential element for complete Diwali celebrations.
A Cascade of Electric Lights & Lamps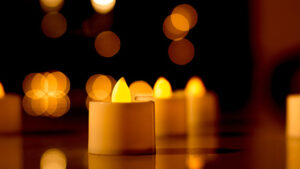 The festival of light is incomplete without incorporating the space with some amazing electric lighting and lamps. There are cascades of electric lights and lamps available for rent in the market. Renting lights & lamps is not only cost-effective, maintenance-free, and saves storage space but it also gives you the flexibility of modifying the lighting options. Choosing the perfect light for Diwali is all about opting for the right light color and merging it with the traditional theme.
The best electric light options for Diwali are listed below:
Tip – Warm White light a.k.a yellow light is the best light color for decoration & creating a cozy ambience.
Floral or Colored-Sand  Rangoli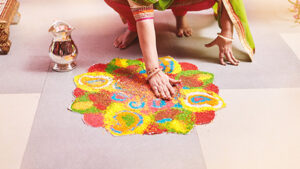 Rangoli is essentially a traditional design or a pattern that is made at the main entryway. Diwali Rangoli can be made using a range of colored-sand options or it can also be created using flowers and leaves. Traditionally, real marigold flowers in orange and yellow along with mango or ashoka leaves were used to create floral rangolis. Rangolis not only increase the aesthetic value of space but are also said to bring positivity and vitality to the household.
Torans, Floral & Fabric draping for entrance & living area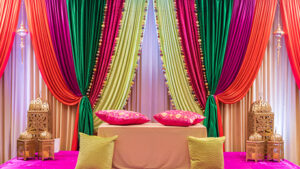 Diwali decor is incomplete without a toran at the entrance and marigold flower draping around the living area. You can choose to have real or artificial marigold garlands that can be used vertically or horizontally to decorate the entrance, or the floor or create beautiful suspensions from the ceiling.
Fabric draping can also be used to add vibrancy to the ambience. Fabrics like chiffon or georgette are the best options to use for draping as they are soft, light in weight and delicate in appearance, thereby adding a touch of elegance to the ambience.
Aromatic Incense Burners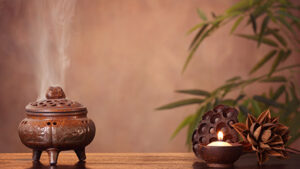 An Aromatic incense burner is a must-have decor product this Diwali season. There is an exquisite range of incense burners that not only cleanse the air and bring in a calming & fragrant aroma to the ambience but they are also decor pieces of their own accord. There are bespoke incense burners made of brass and ceramic that are sure to add immense value to your space.
A Good Tableware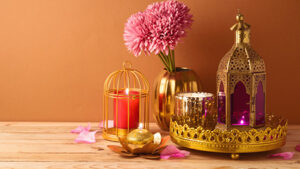 A good dining experience is not just about good food but also good tableware. Well-crafted tableware can significantly enhance the dining experience. There is a range of tableware options made of different materials like ceramic, bone china, brass, glass, and steel, to name a few. Opt for designs as per the theme of the occasion to create a magnificent dining experience this Diwali.
Pro Tip: In order to maximize the aesthetic value of a space, it is always a good idea to keep 7 elements of interior design in mind while decorating your house this Diwali. The 7 elements listed below will help you style your home or any chosen space this Diwali.
Space – Space is a key element when designing or decorating your home. A well-balanced space is one that is neither too cluttered nor "too empty".
Line – Lines are all about using home decorations and furnishings in a way that will accentuate your space by giving it a direction.
Form – Form or the shape of a decor piece or furniture can add depth to the ambience.
Light – Good quality light, whether artificial or natural can make a world of difference to your home.
Color – The choice of color will dictate the mood & energy of your space.
Texture – The texture of a decor element decides how it feels to our sense organs.
Pattern – Patterns are nothing but a repetition of design or a form. Patterns can be seen in the design of curtains, wallpapers and floorings, to name a few.
The 5 decor essentials listed above, along with the pro tips will help you create a traditional & vibrant Diwali setting at home or any chosen space. These decorative components can be purchased online, in stores near you or you can even rent Diwali decorations packages at Hafla. There is a range of products that are specially curated by the consumer-centric teams at Hafla.com for a hassle-free Diwali experience.
Here are various Diwali decoration ideas:
| | |
| --- | --- |
| Decorative Items | How to Use |
| Diwali Rangoli Stencils | Utilize stencils to create intricate rangoli designs. |
| Floating Candles | Place candles in water bowls or decorative vessels for a floating display. |
| Diwali Wall Hangings | Hang these decorative pieces showcasing festive motifs on walls or doors. |
| Diwali Banners | Display hanging banners with festive messages or designs in prominent areas. |
| Diwali Lantern Strings | Arrange strings of lanterns for a whimsical display, either indoors or outdoors. |
| Diwali Table Runners | Add festive fabric runners to dining tables for an elegant touch. |
| Diwali String Lights | Create twinkling light patterns in various areas to infuse a warm glow. |
| Diwali Window Decals | Apply adhesive decorations on windows and glass surfaces to add a festive touch. |
| Diwali Paper Fans | Decorate walls or ceilings with colorful paper fans for a vibrant atmosphere. |
| Diwali Floor Cushions | Place decorative cushions with festive patterns on floors or seating areas. |
| Diwali Candles in Holders | Illuminate spaces with candles placed in holders featuring ornate designs. |
| Diwali Lamps with Shades | Use lamps with decorative shades to create soft, ambient lighting in key areas. |
| Diwali Bunting Flags | String festive flags together and hang them for a decorative touch in various spaces. |
| Diwali Floral Garlands | Adorn spaces with garlands made from fresh or artificial flowers, create a lively atmosphere. |
| Diwali Table Confetti | Scatter tiny decorative elements on tables for an added touch of festivity. |
| Diwali Curtains | Hang festive curtains with patterns or embroidery to enhance the overall decor. |
Wrap-Up: 
As Diwali approaches, incorporating these essential decor elements will not only embellish your home but also imbue it with the spirit of this joyous festival. From the timeless appeal of clay diyas to the mesmerizing allure of rangolis, each element plays a pivotal role in making your Diwali celebrations truly memorable.
Keep Shining, Happy Diwali!
FAQ's:
Is there any holiday for Diwali in the UAE?
It's not an official holiday in the UAE.
Can we burst crackers in Dubai for Diwali?
Fireworks and firecrackers are forbidden in Dubai and the police are strict. Fortunately, there are several places in Dubai where you can see Emirates-organized fireworks shows during Diwali.
In Dubai, anyone caught selling fireworks can be jailed for up to three months, or handed down fines of up to Dh5,000.
Where can I see the Diwali fireworks in Dubai?
You can experience thrilling shows with grand firework displays at Al Seef by the Creek, Festival Bay in Dubai Festival City, Burj Khalifa and The Pointe at Palm Jumeirah.
What are some eco-friendly alternatives to firecrackers for a sustainable Diwali celebration?
Consider celebrating with decorative lights, lanterns, and sparklers, or enjoy a vibrant display of fireworks organized by local authorities.
Are there any specific color schemes that work best for Diwali decor?
Bright and vibrant colors like reds, oranges, and yellows are popular choices, as they symbolize energy, prosperity, and positivity.
Written By: Nitya Gupta