Origin 
Halloween is believed to have origins in a blend of Celtic folk customs and Christian traditions. The name 'Halloween' itself is derived from 'All Hallows' Eve,' which refers to the evening before All Saints' Day, celebrated on November 1st. This holiday is thought to have been influenced by Celtic-speaking regions. It is a time when ancient traditions and beliefs merged with Christian practices, creating the Halloween we know today.
Samhain, celebrated from October 31st to November 1st by the Celts, marked the end of the harvest season and the beginning of winter, often called the 'darker half' of the year. This ancient festival, whose name still echoes in Gaelic and Welsh traditions, played a foundational role in the origins of Halloween.
Knock Knock! Trick-or-treat? 
Halloween is a thousand-year-old tradition that started as a religious ceremony but gradually imbibed a secular aura. Have you ever wondered why people dress up spookily and decorate their homes with the scariest decor elements during this time? Well, that is to ward off the evil spirits!
With the spooky season around the corner, people of all age groups & religions in UAE & Dubai are thrilled to celebrate this day. Restaurants, clubs, and theme parks are gearing up to welcome their eccentric guests. Homes are also being set with some daunting decor for celebrating this day with friends and family. Here is a list of decor ideas for you to unleash your creativity with DIY Decor or you can opt for rentals for Halloween 2023 celebrations.
DIY decoration ideas
DIY- Halloween decorations are not only cost-effective but a great way for children and adults to come together for a creative time together. Some great ideas to start off the Halloween decor preparations are 
Pumpkin painting

Ghost-themed photo frames

Lanterns

Scary blood-dripping candles

Cobweb-themed coasters made of cardboard

Monster wreath




Bunting string with a bat theme for a suspended ceiling decor
You can add fun activities like face painting, jewellery making, or art & craft sessions for children. These activities are an excellent way for children to learn and have fun.
Create a spine-chilling entryway decor


The entrance is the focal point of any event space as this space gives the first impression of the venue. Create a spooky entrance for Halloween with skeletons and a witch broom as a fence. Flying bat wind chimes or the classic pumpkins by the main door. You can add a touch of flamboyancy to the entrance with an orange and black coloured balloons arch or add fabric drapings in orange and black to the entryway.
Tips to decorate your entryway or porch
Include classic Halloween motifs like

carved pumpkins

, faux spider webs, bats, and floating ghosts.

Opt for a creative twist by using skeleton decorations to create the illusion of the dead with family on your porch.

Elevate the spookiness of your entrance with eerie elements like spooky trees, witch's boots, lanterns, and fog effects.

Illuminate the pathway to your front door using Christmas light strands and carved mini pumpkins placed over the bulbs, creating a charming and inviting Halloween-themed entrance for your home.

Use trees for H

alloween outdoor decoration

, tree-specific motifs such as skulls and ghosts also add flair. wrap the tree branches with orange string lights to create a captivating and eerie glow

.
Bloody table set-up
In open or closed spaces, the dining area is the most essential part of the celebration, as this is where we gather with our loved ones to share stories, jokes and laughter along with some finger-licking food. 
Elevate the dining experience by incorporating gothic-themed dining cutlery, crockery sets, and furniture, setting the stage for an elegant yet eerie atmosphere.

Opt for cutlery sets and dining ware featuring designs like skeletons, skulls, or pumpkins, crafted in ceramic or melamine for a touch of luxury.

Enhance the spooky ambience by strategically placing red slime accents or covering the table with a blood-red stained tablecloth, adding a dramatic and unsettling effect to your dining setup.

Adorn your Halloween dessert table with classic colors, tasselled table skirting, diverse buntings, and a selection of treats including

Pumpkin Head cake

, custom

Halloween cupcakes

, and

spooky cookies.

use

"cobwebs"

as a substitute for traditional tablecloths, incorporate silver candelabras & scatter fake creepy-crawlies across the table, adding a fun and eerie touch to the overall ambience.
Light up the room with themed lights
Good lighting plays a vital role in creating the perfect ambience for any celebration. You can add lighting options like ghost galore, coloured light bulbs, pumpkin or skull-themed lights, colourful floodlights, moving lights or string lights to create an eerie atmosphere.
Try making cute bat lights by crafting little origami balloons to place on top of string lights.

Achieve a ghostly chandelier look by draping wispy cheesecloth over the arms of your chandelier, creating an eerie effect.

Create a spooky Halloween candle cluster using cardboard tubes, hot glue, flat black spray paint, and LED tealights. This can serve as a front step decoration or a centrepiece for a Halloween party.

If you have a pond or pool visible to trick-or-treaters or party guests, enhance the ambience by placing LED tea lights inside plastic jack-o'-lantern buckets, allowing them to float and create a captivating display.
Have a feast with the beast in erratic costumes
Halloween decorations need not be limited to decor alone. Cook and bake food with spooky themes and delicious ingredients.  Spider-themed cupcakes, cobweb cookies, haunted house gingerbread, pumpkin-shaped tarts and pies are all mouth-watering bakery options for celebrating the season.
Halloween is the only time of the year when looking undesirable is desirable. Show up at Halloween parties in the most erratic costumes to ward off the evilest spirits in style. 
DIY Face Painting & Make-up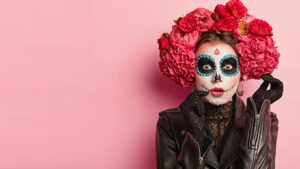 Face painting and make-up are ingenious ways to create the most dramatic personas for the upcoming  Halloween party. A great Halloween costume is incomplete without a daunting face paint or make-up to match your eccentric costume. Great face paint or make-up along with a fancy costume will help you get into the character. Go! play out the petrifying role at the party!
Halloween decoration ideas for formal set-ups
 Formal set-ups like offices, banks, showrooms and commercial spaces can imbibe Halloween decorations to their space by renting out furniture, decor elements and some great food with beverages. Decor essentials for formal set-ups are themed furniture, photo booths, cutlery, lighting, and balloon arch, to name a few.
Make the most of this spooky season with some DIY options that are a great way to amp up the Halloween decor game! If you have a time crunch you can look up a range of Halloween-themed rental options at hafla.com. There are various products from furniture, decor set-up, cakes, themed lights, tents, selfie boards and endless options to choose from for Halloween 2023. 
"We make up horrors to help us cope with the real ones" – Stephen King
Happy Halloween!
How do I decorate for Halloween on a budget?
You can choose a range of decor options that are fairly priced from the Halloween collection on the Hafla website. 
How do you decorate your house for Halloween?
You can decorate your house for Halloween with some DIY trendy Halloween ideas.
What is the most popular decoration for Halloween?
Pumpkins, skeletons, black cats, spiders, witches, and ghosts are some popular decorations for Halloween.
How can I make my house creepy for Halloween?
You can make your house look creepy for Halloween with DIY decor options. Choose a range of Halloween rental products from the Halloween collection on Hafla.com
Why is Halloween celebrated?
 It was believed that on that day, the souls of the dead returned to their homes, so people dressed in costumes and lit bonfires to ward off spirits.
Written By: Nitya Gupt