Christmas is an annual holiday celebrated by millions of people worldwide on December 25th. It holds significant cultural and religious importance, primarily for Christians, as it commemorates the birth of Jesus Christ. The holiday is characterized by various customs and traditions, including exchanging gifts, decorating Christmas trees, festive meals, and spending time with loved ones. In many places, Christmas is a time of joy, reflection, and spreading goodwill. It has also become a widely recognized secular holiday, celebrated by people of various faiths and different religious communities and belief systems as a time of unity, kindness, and festive cheer. Feasting, social gatherings, and gift-giving are important parts of the Christmas Celebration.
Here is a guide to Christmas decorations that will help you make the upcoming celebration a memorable one.
The decoration is an important aspect of any celebration. Some of the important decorations that are specific to Christmas are the Christmas tree, Reindeer, Santa Claus, Mistletoe, Nativity scene, Christmas ornaments, Christmas garlands, Christmas wreaths & more. Decorating a space escalates the beauty and creates a positive & exuberant aura around the space. A decorated space is more inviting than an uninspiring venue. However, when decorating for any event or festivities, it is really important to not go overboard with decorations as that will have a reverse effect on the ambience.
With Christmas just around the corner here is a list compilation of traditional & contemporary Christmas decoration ideas. The contemporary decoration ideas will bring newness & freshness to the space whereas the traditional decoration ideas will add value & familiarity to the ambience. The contemporary world that we are living in is incomplete without traditional themes and ideas that have been carried out for generations.
Presented below is a list of traditional & contemporary Christmas decoration ideas that can serve as a guide this holiday season. Make your celebration vibrant and fun-filled with these incredible decoration ideas.
Tradition decoration ideas
Christmas Trees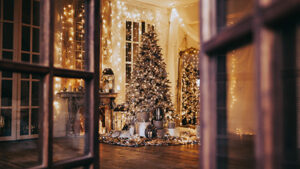 Christmas celebration is complete with a traditional Christmas tree decorated with attractive and charming trinkets. You can choose between a real Christmas tree or an artificial pre-lit Christmas tree, one made of plastic that can also be re-used the following year. If you wish you go for artificial Christmas Trees then you can opt for a tree made of plastic or a Christmas tree made of balloons.
Christmas Tree Decor Tips
1. Decide on your Christmas tree themes, such as a color palette, a collection of ornaments, or a personalized picture Christmas tree.
2. Begin by placing ornaments in your chosen colors, such as traditional red, green, white, gold, or silver.
3. String the lights, starting from the bottom of the tree and working your way upwards.
4. Enhance your tree's appearance with ribbon and fill any gaps with pine cones and berry picks.
5. Crown your tree with a star or a winged angel tree topper, and don't forget to add a Christmas tree skirt that complements your chosen them.
Santa Claus Mascot & Reindeers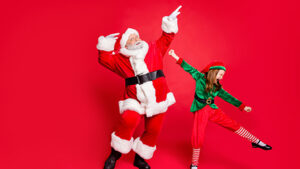 A Christmas without Santa Claus & reindeer is like a rose plant with a rose. If you have children and little ones at home then a Santa Claus mascot & reindeer are a must-have for Christmas celebrations. Along with a mascot, Santa Claus cutouts hanging on the tree and big cutouts at the entrance will create a welcoming atmosphere for the guests attending the Christmas party.
Hire Santa Claus  Gold Reindeer
Creative Ways to Decorate with Santa Claus and Reindeer for Christmas.
Entryway Welcome: Place smaller figurines or life-sized inflatables of Santa Claus and a reindeer, or snowman near your front door to welcome guests as they arrive.
Mantel Display: Arrange smaller Santa figurines and reindeer figurines on your fireplace mantel, surrounded by garlands, twinkling lights, and ornaments
Table Centerpiece: Create a festive centrepiece for your dining table with a Santa Claus and reindeer figurine set, surrounded by candles and seasonal greenery.
Christmas Tree Ornaments: Hang Santa Claus and reindeer ornaments on your Christmas tree. Choose a variety of styles, from traditional to whimsical
Window Decorations: Hang Santa Claus and reindeer & snowflakes on window glasses
Stockings and Santa Hats: Hang stockings featuring Santa Claus or reindeer motifs by the fireplace
Lawn Decorations: Place illuminated Santa Claus and reindeer figurines on your lawn for a magical outdoor display.
Jingle Bells Decoration Santa & Carousel horse set
Go Red, Green and white with decorations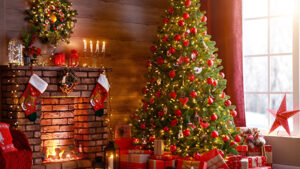 When decorating for Christmas, red, white, and green are symbols of Christmas. You can incorporate these colors in various decorations like decor pieces, furnishing, tableware decorations, and even food you wish to serve.
Kids Table Setup Snowflake Cupcakes Christmas Cake
Mistletoe wreaths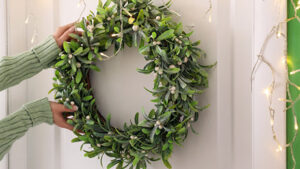 Hanging mistletoe wreaths at the front door, on the Christmas tree, and around the walls of the house are among the many traditional Christmas decorations accessories. The wreath symbolizes love and life. Traditionally wreaths made of real mistletoe trees were used to decorate the space. Now there are wreaths made of plastic that are easily available, economical, convenient to use, and can be reused again the following year.
Customize your wreaths with additional decorations, such as ribbons, ornaments, or lights, to suit your personal style and complement the rest of your Christmas decor.
Five Creative Ways to Use Wreaths in Your Decor
Front Door Welcome: Hang a wreath on your front door to greet guests with a warm and inviting welcome.
Table Centerpiece: Lay a wreath flat on your dining table and place a candle holder, vase of flowers, or a decorative bowl in the centre.
Window Decoration: Hang a wreath in a window using a suction cup hook or ribbon. This adds a festive touch to your home's exterior and can be enjoyed from both inside and outside.
Above the Fireplace Mantel: Display a wreath above your fireplace mantel, either on its own or as part of a larger holiday arrangement.
Chair Back Decor: Tie a wreath with a festive ribbon to the back of a dining chair. This adds a unique and decorative touch to your dining area.
Wreath Greeting Card Door Decoration
Stockings & Gingerbreads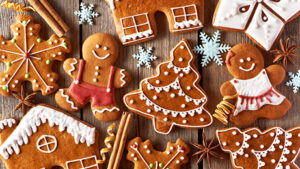 Stockings and gingerbread made of fabric felt and cardboard are a good choice for decorating the Christmas corner. They are also a great way to store gifts and hang them on the Christmas tree or place them above the fireplace.
Tips for filling Christmas stockings
Choose gifts that are small and lightweight, so that they will fit in the stocking.
Include a variety of different types of gifts, so that there is something for everyone.
Consider the recipient's age, interests, and needs when choosing gifts.
If you are filling stockings for multiple people, try to personalize each stocking with gifts that are specific to that person.
Don't forget to include a few special surprises!
Ideas for filling Christmas stockings
Food: Candy, chocolate, nuts, dried fruit, cookies, crackers, popcorn, candy canes, gingerbread men, hot chocolate mix, coffee, tea, small bottles of alcohol (for adults)
Toys: Small toys, such as action figures, dolls, cars, trucks, balls, stuffed animals, puzzles, games, building blocks, art supplies
Other gifts: Small accessories, such as hats, gloves, socks, scarves, jewellery, hair accessories, sunglasses, chapstick, lip balm, lotion, nail polish, keychains, phone cases, and gift cards to small businesses.
Personal care items: Toothbrush, toothpaste, shampoo, conditioner, soap, lotion, deodorant, razors, shaving cream, feminine hygiene products
School supplies: Pencils, pens, erasers, notebooks, folders, highlighters, markers, crayons, colored pencils, ruler, calculator
Office supplies: Pens, pencils, paper clips, binder clips, staples, stapler, sticky notes, highlighters, markers, tape dispenser
Contemporary decoration ideas
Artistically crafted Aromatic Candles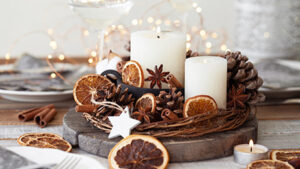 Aromatic candles crafted with utmost creativity and depth are a great addition as a contemporary decoration this Christmas season. The aromatic candles infuse delicate aroma into the ambience and also serve as an independent decorative accessory. Aromatic candles make a great gift for friends and family members, especially during the holiday season.
Fresh red & white flowers from the farm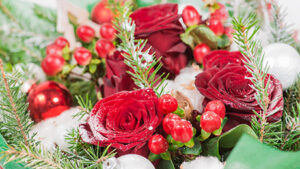 Nothing adds life to a space like a bouquet of fresh flowers. This festive season you can add fresh flowers in red and white to make your space lively & enriching. Rose, daisies, carnations, hydrangeas, and orchids are some of the popular flowers that are used as dining table decorations or simply placed in a vase.
Intricately designed Carpets and rugs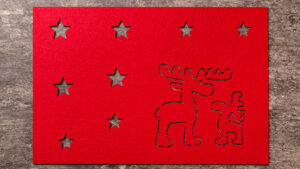 Intricately designed carpets and rugs that add a lot of value and aesthetics to your space. They not only create visual appeal to the eyes but also add a sense of coziness & comfort to the space.
Hand-crafted designer crockery
Hand-crafted designer crockery is a great way to accentuate the beauty of your dining table. It gives your guests an exclusive dining experience. The right crockery set is all about good design and color that will enhance the dining experience. It is not just the food that adds to the dining experience but also the crockery you use. Presentation and serving of the food to the guests is important too.
Thoughtful Christmas Gift Ideas for All Ages
| | |
| --- | --- |
| Gift For | Gift Idea |
| Parents | 1. Personalized family portrait |
| | 2. Spa or wellness package |
| | 3. Gourmet food or wine gift basket with Christmas greeting card |
| | 4. Smart home device or gadget |
| | 5. Customized jewellery with family initials or birthstones |
| Siblings | 1. Trendy fashion accessories |
| | 2. Book subscription service |
| | 3. Video game console or latest game |
| | 4. DIY craft or hobby kit |
| | 5. Concert or event tickets for a favorite band or artist |
| Children | 1. Educational toys or games |
| | 2. Personalized storybook with their name |
| | 3. Outdoor adventure gear (e.g., scooter, skateboard) |
| | 4. Building blocks or LEGO sets |
| | 5. Art supplies and creative kits |
| Grandparents | 1. Customized photo calendar with family pictures |
| | 2. Comfortable and stylish slippers or blankets |
| | 3. Ancestry DNA kit for tracing family heritage |
| | 4. Subscription to a streaming service with classic movies |
| | 5. Indoor herb garden kit for gardening enthusiasts |
| Friends | 1. Unique and personalized cocktail glasses or barware |
| | 2. Gourmet food or wine-tasting experience |
| | 3. Cozy throw blankets or stylish home decor |
| | 4. Board games or puzzle sets for fun gatherings |
| | 5. Customized phone accessories or tech gadgets |
| Significant Other | 1. Romantic weekend getaway or spa retreat |
| | 2. Jewelry with a personal touch (e.g., engraved initials) |
| | 3. Handwritten love letters or a scrapbook of memories |
| | 4. Cooking or dance class for a fun shared experience |
| | 5. Personalized star map depicting a special date |
This Christmas season you can combine traditional and contemporary decoration ideas to create the best ambience. Along with the above-mentioned decoration ideas, you can choose from a wide range of rental products & services that you can avail on rent for organizing a momentous Christmas party. At Hafla, you can choose from a range of products catering to event equipment, decoration, lighting, venue, food & beverage requirements.
Don't forget to carve out a special spot for capturing cherished memories. Consider transforming a small area in your home into a delightful Christmas photo nook
Merry Christmas!!
FAQ's
What Colour is a Christmas tree?
While most people go for a natural green Christmas tree, you can also buy a white Christmas tree, black, silver, or even bright colours like red!
Why do we hang up a stocking?
In the past, it was common for people to leave food and coins in their stockings for the poor on Christmas Eve. This tradition may have evolved into the modern practice of hanging up stockings for Santa Claus to fill with gifts.
What is a traditional Christmas decoration?
Traditional decorations include bells, reindeer, candles, candy canes, garland, stockings, wreaths, snow globes, Christmas bubbles and angels.
 Is Christmas a holiday in the UAE?
The United Arab Emirates is primarily an Islamic country, so Christmas isn't an official holiday. Only about 13% of the population are Christian.
Written By: Nitya Gupta