This year, on December 2nd, UAE will celebrate its 51st National Day. The National Day stands for the official nationalization of the UAE in 1971. On this day, the six emirates ( Abu Dhabi, Dubai, Sharjah, Umm-al-Quwain, Fujairah, and Ajman) were integrated into one nation. The seventh emirate R'as-al-khaiman became a part of the UAE the following year. The UAE National day is celebrated will utmost joy and vigor by all age groups. Since this day is a national holiday for all in the UAE, people make the most of this day by showing up on the streets to enjoy the beautiful national day decor and lighting. On this day, the entire UAE is adorned in the most extravagant manner, and watching it is a treat to the eyes. 
At this time of the year, the entire city is gleaming in UAE's quard-color flag color, which is green, white, black, and red. The streets, deserts, beaches, homes, and offices indulge in the celebration by adorning their space in the most elegant & vibrant manner. The decorations and lighting play a very significant role in enhancing the beauty of a space. 
Listed below is a list of UAE National day decoration ideas that you can add to your space to showcase your love for this magnificent & flourishing nation.
UAE National day flag bunting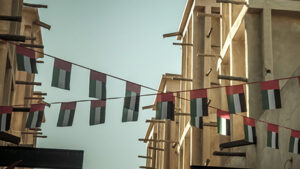 A celebration is incomplete without adding some bunting to the decoration. Buntings are essentially colorful pieces of paper/fabric/ thin plastic sheets or even light cardboard cutouts that are suspended from strings. On this national day, you can add bunting in UAE national flag theme at the entryway of your home, porch, outside shops, in the office, shopping malls, commercial complexes, streets, and other areas.
UAE National day tree Illumination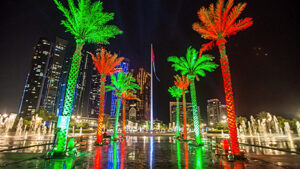 Tree illuminations are a string of fairy lights or LED lights wrapped around trees. These lights cloaked around trees create a visual delight at night. Depending on the event's theme, you can pick the color of the lights. For national day celebrations, you can opt for white, red, and green lights. Tree illuminations are a captivating decor pick for lighting the streets that are surrounded by trees or any outdoor space with trees and tall plants.
UAE National Day balloon decoration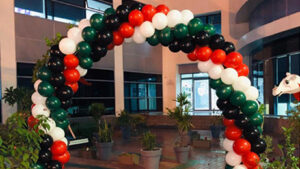 Can a celebration even begin without some balloons? Balloons symbolize happiness & celebration. They add vibrancy to the event space irrespective of the occasion. There are various ways in which you can use balloons this National day. You can opt for options like individual balloons in quad-color, balloon pillars, balloon arches, and balloon walls, to name a few as a decor component this National day.
UAE National Day umbrella decoration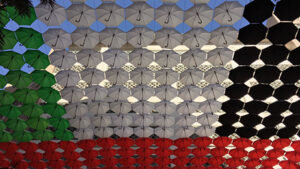 Umbrella decoration is a great pick to decorate outdoor event spaces. Umbrellas suspended upside down from strings can create a canopy in outdoor space and function as a decorative component at the same time. Umbrella decoration in UAE flag colors will blend perfectly with the theme.
Decoration Lights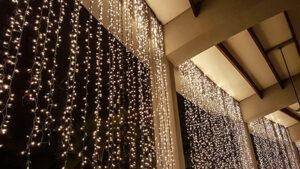 Decoration lights play a crucial role in enhancing the beauty of a space. The illumination of lights at night adds depth to the space and makes nighttime even more alluring. This National day, there is a range of lighting options available that can be added to various spaces like streets, beaches, building facades or indoors, homes, deserts, around trees, and more. You can opt for fairy lights, led strip lights, or bulb lights in color warm white light, a.k.a. Yellow light, or UAE flag color lights, that is white, green, and red.
With so many amazing decoration options to choose from this National day, you can create an outstanding ambiance with these decoration choices. The above mention options for decoration are perfect for commercial as well as non-commercial spaces. All these and more are available in the meticulously curated National Day collection at Hafla. You can choose the ones that suit your taste from an infinite range of options at Hafla.
Written by: Nitya Gupta