Weddings are a benchmark event in a person's life. It is a crucial step forward in life. Being one of the most sought-after events, we want to make sure that everything is impeccable. From the most visible aspect of wedding planning to the most minute detail, we want everything to be perfect. It goes without saying that decoration plays the most important and defining role in a wedding. It wouldn't be wrong to say that decoration is a major contributing factor to a successful wedding. There are various aspects of wedding decoration like furniture, choice of material & fabrics for draping, flowers, lighting, the theme of the wedding decoration, and more. In this article, we are going to talk about 5 tips to choose the perfect wedding furniture.  Wedding furniture not only serves a utility purpose but enhances the visual appeal of event space significantly.
Wedding Theme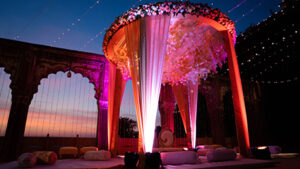 Choosing the right wedding theme is the first and most important part of wedding planning. It is the wedding theme that will decide other aspects of wedding decoration. Wedding themes are based on personal preferences. However, there are a few wedding themes that are widely used for wedding events like a classic wedding theme, Contemporary wedding theme, traditional wedding theme, festive style wedding theme, wedding themes that are specific to a certain culture or community, and so on. No matter what the wedding theme is, It should be well aligned with the budget and venue.
Venue of the Wedding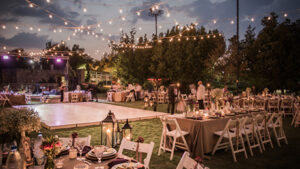 It goes without saying that the venue plays a crucial role in any wedding. You need to decide whether you would like to choose an indoor, outdoor, beach-side, or dessert venue. While deciding on the theme of the venue, it is best always to consider the venue of the wedding because certain wedding themes are compatible with certain venues. The venue of the wedding will play an important role in deciding the ambiance of the wedding.
Budget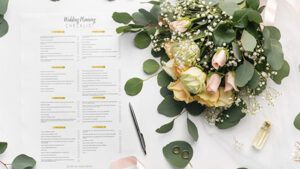 Budget is the most important factor when deciding the wedding event. The budget for the wedding will help you determine the kind of wedding venue, theme, decorations, furniture & other aspects you would like to go with.
Different styles in wedding furniture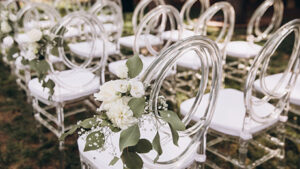 Choosing wedding furniture can be an overwhelming task if there isn't a set theme for the wedding. Wedding furniture includes furniture products like Bride & Groom chairs/sofas, seating options like sofas and armchairs for guests, dining table sets, and more.
Material & quality of the furniture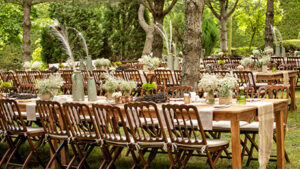 Material and quality of the furniture are vital factors when choosing rental furniture for weddings. The wedding venue will also affect the kind of furniture you choose as there is some material that is more appropriate for indoor venues than outdoors. The furniture quality can significantly enhance or diminish the overall ambiance of the event space.
The pointers mentioned above will help you seamlessly create your dream wedding. Make hafla your one-stop web destination for all wedding furniture requirements on rental. The products offered are not only affordable but you can also be assured of receiving quality products. Rest all your event concerns to Hafla while you sit back, relax and enjoy the wedding!
Written By: Nitya Gupta