Thanksgiving is the celebration of the bountiful harvest season. On this day friends and family gather to celebrate and offer heartfelt gratitude for the harvest and abundance. The season of harvest is celebrated across various cultures and countries across the globe, though they are known by different names across the world. As the time of harvest is different across the globe, which primarily depends on the soil and weather conditions of a particular region, so does the time of celebration of the harvest season.
This year Dubai will celebrate Thanksgiving on 24 November 2022, Thursday. Although Thanksgiving has its deep roots in religious and cultural contexts, with time it has imbibed a secular and logical reason for celebration. This day is also a national holiday in the USA & Canada.
Thanksgiving is largely celebrated by organizing a lunch or a dinner with family and friends. Certain delicacies are specific and traditional to thanksgiving. The classic thanksgiving recipes are roast turkey, roasted vegetables, Pumpkin, and apple pie, to name a few. With Thanksgiving around the corner, there are numerous ways to celebrate this day full of gratitude.
 Listed below is a guide for hosting an effortless Thanksgiving: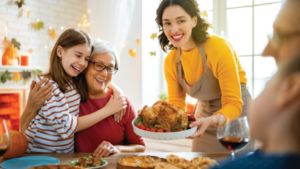 Organize a lavish lunch or dinner at home
The best way to celebrate & offer gratitude for the harvest and the blessings are by organizing an intimate and warm lunch or dinner with family and friends. The atmosphere at home not only creates a comforting space but is also a source of activities like fun games, creative activities, and more with our loved ones. Everyone is always at ease and off their guard in a home environment.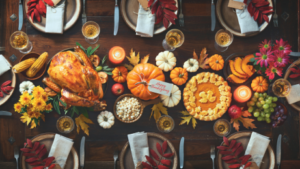 Prepare the classic Thanksgiving delicacies
Thanksgiving celebration is incomplete without traditional delicacies like roast turkey, apple pie, pumpkin pie, and more. The best way to personalize the meal is by preparing all the classics with your loved ones at home. Cooking the meal yourself not only gives great taste to the meal but it's a great way to form a deeper connection with the meal and the people who you cook with. A home-cooked meal prepared with love can win over even a Michelin-star Chef!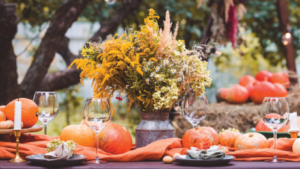 Embellish

 your home for Thanksgiving
Anything that is clean and beautifully guarded and kept, creates a beautiful aura around it. This Thanksgiving create a warm and inviting aura in your house with beautiful real flowers, candles, fragrances, decorative lights, and some elegant decor for the living room. The best way to enhance the beauty and aesthetics of your house is by first decluttering your home of any unnecessary products, keeping the space clean, and then adding some new elements to the decor. 
 For every new product that you choose to bring into your house, discard or give away an old product to your friend or someone who would appreciate the Passover of the product. This not only keeps the home clutter-free but is also a good way to lessen the waste disposal burden on the environment.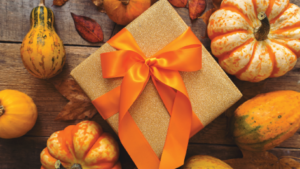 Surprise your guests with a thoughtful Thanksgiving gift
Build a deeper connection with your guests by surprising them with some thoughtful thanksgiving gifts. You don't have to go overboard with the gifts. They just need to be thoughtful and useful. Some gift options that you could give your guests are scented candles, a good fiction or non-fiction book, a beautifully packed dry-fruits box, an indoor plant, and more.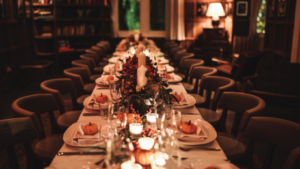 Book a table at your favorite restaurant
If you are running short of time to make all the preparations for a thanksgiving meal then you can book a table at some of the popular restaurants that will be hosting Thanksgiving. Many restaurants are gearing up for this special day by curating special menus around thanksgiving and decorating the space extravagantly. It is best to book your table in advance to avoid last-minute unavailability due to rush.
 With so many possibilities for creating the most memorable thanksgiving, you can rent out some dining table set-up or pick individual products that would be a great addition to the Thanksgiving set-up. A dining table, candle stand, crockery set, decoration lights, flowers, and more can be a part of your celebration by renting them out from the specially curated thanksgiving collection at Hafla. Let's make this Thanksgiving memorable by curating a wonderful space filled with warmth and beauty for our loved ones and offering thanks for all the abundance we are blessed with.
 Happy Thanksgiving!
FAQ: 
Is Thanksgiving celebrated in the Middle East?
Yes, Thanksgiving is celebrated in the middle-east.
Where can I go for Thanksgiving dinner in Dubai?
Most restaurants in Dubai will be organizing Thanksgiving Dinners. You can visit your preferred restaurant to know more about it.
Is Thanksgiving a Turkish holiday?
No, Thanksgiving is not a Turkish holiday
Written By : Nitya Gupta