FIFA World cup 2022 is all set to begin from 20th November to 18th December in Qatar, which coincidentally is also Sagittarius month. Sagittarius month begins on 22nd November and ends on 21st December. If you are a Sagittarius who loves football, then you couldn't be in a better place than this, in the whole world wide web. People born under the 9th sign of the zodiac showcase an innate quest for knowledge and an immense love for freedom. They are ambitious, versatile and have a very optimistic outlook towards life. 
With such alluring personality traits, your birthday deserves to be celebrated in the most stylish and extravagant way. What better way to celebrate your birthday than to amalgamate the FIFA world cup theme with your birthday? There is a gamut of decor choices that are centred around the theme of FIFA. Inculcating FIFA-themed decor, equipment and F&B is an excellent way to showcase your love for the game and celebrate your birthday sportingly.
Listed below are some remarkable FIFA party decoration ideas and F&B options. You can inculcate these options at your birthday party this FIFA season and have a fun & feisty "FIFA Birthday party".
Football-inspired Balloon Decor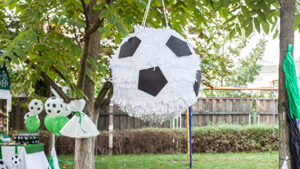 Can the party even begin without some vibrant balloons? Balloons are the most essential decor element for any event celebration. They symbolize the spirit of celebration and jeu d'esprit. With the upcoming FIFA 2022 being held in Qatar, there are an array of balloon decor options available which are centred around the FIFA theme. Inculcating FIFA balloon decor in your celebration is a great way to express your fandom for the game. The balloon decor options can be used both indoors as well as in outdoor spaces like a backyard garden, patio, entryway, terrace, third-party venues and any open space of your preference. Balloon decorations are essentially composed of a balloon arch, a backdrop wall made of balloons, loose balloons and some foil balloons.
Inflatable football darts
A birthday party is incomplete without some games & activities. They make a birthday celebration even more enjoyable and entertaining. The inflatable football darts as a gaming activity are a sure way to keep the children and adults engaged and entertained at the party. The inflatable darts are a great choice if you plan to celebrate your birthday in outdoor spaces.
Inflatable football fields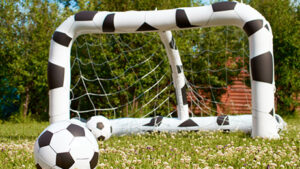 This football season, an inflatable football field is a must-have at all open-air birthday parties. These inflatables are an excellent choice for organizing a team game. You can be assured of an injury-free team game with inflatable football fields.
Football Bouncy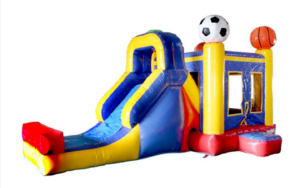 Football-themed bouncy are all-time essential for outdoor birthday parties. The inflatable football-themed bouncy is not only safe but also a great outdoor interactive game choice for children and adults.
Football Themed desserts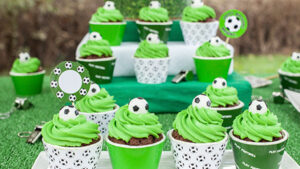 The party is incomplete without treating the taste buds with some FIFA-themed luscious desserts. There is a range of cakes and cupcakes that are not only delicious but also delightful to look at. Add some delicious FIFA theme cupcakes and cakes as the dessert choice this FIFA season at your coming birthday party!
PS4 Football set-up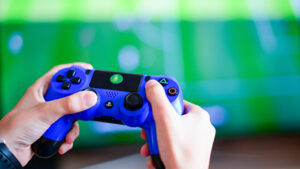 You can create your own PS4 football arena by creating a number of mini-set-ups with a TV, PS4 and comfortable seating. You can create 5-6 mini set-ups for individual gaming experiences at the birthday party. This setup can be thoroughly enjoyed by guests who prefer individual games over team games.
Foosball table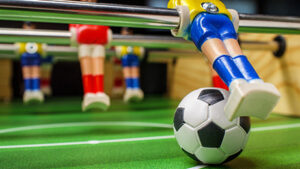 You can add a foosball table at birthday parties as a twin gaming option. This game is not only entertaining but it requires minimum space to set up. This is an engaging game that is sure to be enjoyed by all football lovers at the party.
Make the most of the FIFA season this birthday by incorporating the above-mentioned FIFA-inspired equipment and desserts. The equipment mentioned above is readily available at a click of a button in the Football collection at UAE's most loved rental website, hafla.com. Connect with us & we will help you create the most memorable FIFA birthday party ever!
Wishing you the heartiest birthday ever!
Written by: Nitya Gupta