Love is the essence of our existence. The ability to express this beautiful emotion is what distinguishes us from animals and machines. Belonging and love play an integral part in the overall development of a person. Abraham Maslow, the American psychologist, cited "love" as an important psychological need for human behavior motivation. Love is not just an exchange of emotions. "Love" is going the extra mile for your family, friends, romantic partner, beloved dog, the beautiful plants you love, or any skill or hobby that fuels you from within.
Valentine's Day is synonymous with the expression of love and affection. Throughout the year, one may not express their love to their loved ones, but on this day most people, especially the youth, make it a point to share and express their love to their partners or their potential partners. Valentine's Day is also known as Saint Valentine's Day. This day had started off as a day for honoring Christian martyr Saint Valentine, but gradually with changing times, this day became a day for the celebration of love and romance. This day is symbolically marked by giving gifts and flowers and spending time together at a beautiful location along with some delicious meals. In this article, we are going to share 7  unique ideas to make valentine's day 2023 special.
Enjoy an evening by the beach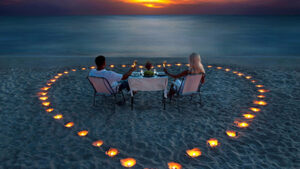 If you are in Dubai, what better way to celebrate Valentine's Day than to spend the evening by the beach? You can set up a beautiful Valentine's Day setup by the beach with comfortable seating on the sand, a sheer canopy, candles, flowers, and some delicious food and beverages. 
Desert Romance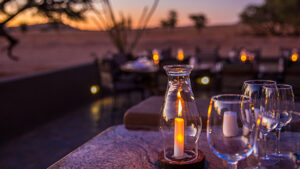 If you wish to stay true to the vibe of Dubai, then what better event space to celebrate Valentine's Day than a desert? You can go for a candlelight dinner in the desert under the stars. What better way to celebrate love than in the midst of nature?
Book a table for two at your favorite restaurant
You can book a table for two at your favorite restaurant. During Valentine's Day, the restaurants will gear up to welcome their guests with beautiful decor and curated menus, especially for this special day.
Go bowling at your favorite sports club
If you and your partner love sports and prefer to spend quality time doing something different, then you can go bowling followed by a heart-warming candlelight dinner.
Watch a movie together
What better way to spend the evening than to watch a rom-com with your loved one? Pick a movie from the genre of your choice and share some finger-licking popcorn and hearty laughter together. Pick your favorite international or regional movie and make the most of this time together.
Prepare a meal together
There is something really special about preparing a meal for your loved one, and when you cook together with your loved one, that makes the meal all the more special. There is something really special about cooking for and with your loved one. It connects you with your loved one on a deeper level that can't be compensated by an ordered meal. 
Opt for hand-made and personalized gifts
This Valentine's Day, instead of buying a gift, opt for personalizing the present by making it yourself. There are so many gift ideas that you can make yourself, like baking a cake, crafting a greeting card, writing a handwritten letter, or buying a gift that is personalized. If you want to make your loved one feel special, then go the extra mile and put in the effort to bring a smile to their faces and warmth to their hearts. If your partner enjoys reading, you can personalize a favorite novel by replacing the characters with your real-life friends.
You can make this Valentine's Day all the more special by opting for a range of setup options mentioned above. You can browse a range of products and services available at Hafla. We at Hafla have a dedicated collection of rental products dedicated to making your special day all the more special. There is a range of products and services, ranging from decoration, lights, flowers, set-ups, venues, food and beverages, and more, to choose from. To learn more about various products available at Hafla, you can browse or connect with our dedicated sales team, which will make your selection process a cakewalk.
Written By: Nitya Gupta