The upcoming FIFA World Cup 2022 has created an air of excitement and sportsmanship hovering over the air of  UAE. Football is one of the most viewed & participated sports in the world. This game has an estimated 4 billion fans. The popularity of this game can be attributed to the fact that this game has infiltrated all sections of society, irrespective of economic and social class. This sport has penetrated so well across the  various sections of society as it does not require any expensive equipment & gear to be worn by the player. All that is needed are ground, a ball, and an enthusiastic player. In addition, this sport pumps up the viewer's adrenaline both in the stadium or while watching it with friends on a screen.
Modern football is said to have originated in England in the mid-19 century. Interestingly, Cuju, a game that originated in China in the 3rd & 2nd centuries, is the first known ball game involving kicking a round ball made of stitched leather with fur or feathers. Like everything, even the game of football has gone through an evolution.
FIFA 2022 which is scheduled to be held in Qatar, will be in its 22nd year of operations since its inception on July 13, 1930. There is an air of excitement and adrenaline rush among football fans all over UAE & Dubai. While many are ready to watch the match live in Qatar, for many, it may not be a feasible choice to travel all the way. You don't have to miss out on the first-ever FIFA event in UAE as we have curated tips for you to watch the world cup with your friends without missing out on any fun.
Listed below are 5 tips to watch the FIFA World Cup 2022 with Friends.
Hop into your nearest sports bar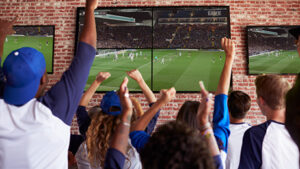 Sports bars are one of the most reached venues to watch any sports events. You can go to the nearest sports bars for an enthralling FIFA match-viewing experience with friends and football buffs. The ambience and vibe of sports bars are power packed with high energy and great respect & love for the game. This is the perfect place to meet your tribe and view the legendary FIFA 2022.
Walk into your favorite restaurant 
Most restaurants in Dubai and UAE are gearing up to set the perfect ambience for a wholesome dining & FIFA viewing experience. The restaurants are all set to give a holistic experience to their customers. They are gearing up to offer great food, beverages, and a memorable FIFA experience by setting up a large screen in restaurants. There will be FIFA-centric special menus with some great offers and deals.
Organize a FIFA party at home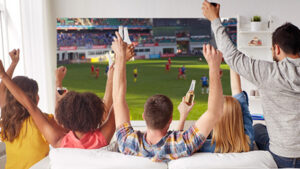 For introverts, busy bees, and couch potatoes, organizing a FIFA party at home is a great way to watch & cheer up for your favorite team. The comfort of your favorite couch, coupled with great food and loved ones is a sure-shot way to have a gala time this football season. A cosy "FIFA corner" can be set up in spaces like a living room, backyard, patio, or terrace.
Book a third-party venue to cheer-up up your favorite teams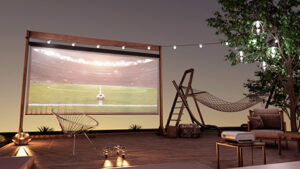 Third-party venues are an ideal pick for a personalized experience of watching the match. Third-party venues like hotel banquet halls, private areas by the pool, sports bars & restaurants can be booked for a personalized experience. These venues are a great pick for corporates who intend to organize a fun evening for their employees.
Watch FIFA with friends in open spaces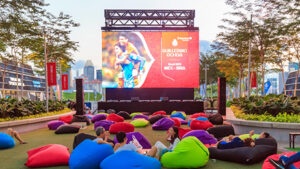 Open spaces like beaches, open parks, and desserts are some great venue options to organize and watch FIFA World Cup with friends digitally. These venues are an excellent choice for managing a private or corporate get-together.
You can pick the best-suited venue as per your comfort and convenience. If you are a restaurant owner or a sports bar owner, or if you simply wish to organize a private FIFA match evening with friends and family, Hafla is the one-stop solution to all your rental requirements.
The essential tools required for creating a comfortable space are – a large screen, projector, comfortable seating options like bean bags and lounge seaters, a coffee table, and some mouth-watering finger foods. With these 5 basic tools, you can create a FIFA arena at any venue of your choice.
 Happy Viewing! 
Written by: Nitya Gupta